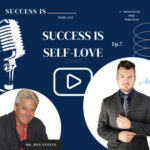 📌PODCAST EPISODE 7
Episode 7 of Success is _ podcast with guest Dr. Ron Stotts is live today. Dr. Ron Stotts is a transformational guide, life coach, author, and inspirational speaker. Ron has supported thousands of people through their journey as they've moved through their most complex challenges and developed their potential.
Ron has been coaching and transforming the lives of many multi-billionaires, guiding them through their life course to resolve their initial personal or professional problems and help them recognize characteristics, and developing their role in their organization as a leader.
Join me as I tackle with Dr. Ron the aspects of life and how to nurture them to avoid compromising your values and make a difference for you to succeed. The secret is not just the pile of money. It's something that is just within you that you don't notice.
📌Available now 👇👇
Spotify, google podcast, Anchor, apple podcast, and Youtube
Please don't forget to like my post and follow!
Connect with Dr. Ron Stotts:
Facebook: https://www.facebook.com/DrRonStotts
LinkedIn: https://www.linkedin.com/in/dr-ron-stotts-14143236/
Youtube: https://www.youtube.com/channel/UCNV6D59C3InwlZmpAOVls_g
Instagram: https://www.instagram.com/ronstottsofficial/