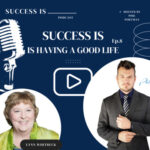 📌PODCAST EPISODE 8
Episode 8 of Success is _ podcast with guest Lynn Whitbeck is live today. Lynn Whitbeck is known as the Queen of Sales. Lynn is the Founder and CEO of Petite2Queen, and you may have seen Lynn in USA Today, HuffPost, Chicago Tribune, and more! She helps businesses and Entrepreneurs ignite sales and unleash profits.
Lynn defines success as having a good life where she can be with her family and friends and enjoy time together. The company helps ignite sales teams stuck in a chaotic sales cycle to build a winning strategy to grow their business. She helps transform clients' perspectives to attain hidden profits that last.
Join me as the Queen of sales share her secret to creating her successful company and how she gains the knowledge to become the best in the sales Industry.
📌Available now 👇👇
Spotify, google podcast, Anchor, apple podcast, and Youtube
Please don't forget to like my post and follow!
Connect with Lynn Whitbeck:
Twitter: https://twitter.com/LynnMWhitbeck
LinkedIn: https://www.linkedin.com/in/lynnwhitbeck/
Facebook: https://www.facebook.com/LynnMWhitbeckAuthor
Instagram: https://www.instagram.com/petite2queen/
Website: https://petite2queen.com/