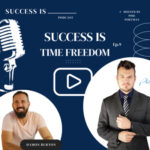 📌PODCAST EPISODE 9
Episode 9 of Success is _ podcast with guest Damon Burton is live today. Damon Burton is a podcast entrepreneur and writer for Forbes and has been featured in many publications and magazines, including Buzzfeed and USA weekly. Damon is president and owner of SEO National and has helped multiple businesses grow without using paid ads.
Damon defines success as a Freedom of time where he can spend more time on more valuable things like spending time with his family, working less but earning maximum profit. In this podcast, as an SEO expert, he will give a thorough insight into maximizing your business growth in your niche using SEO. Real estate agents and Insurance agents have been using the paid ad as a tool in one of their marketing strategies. Most agents don't know that when you start building your business, there are tips and strategies that you can use to maximize your connection.
Damon and I tackle these strategies that many leading agents have been using for the past years because it works. Find out here and start copying this strategy now!
📌Available now 👇👇
Spotify, google podcast, Anchor, apple podcast, and Youtube
📢Please don't forget to subscribe, like my post, and follow!
Connect with Damon Burton:
Twitter: https://twitter.com/entrepreneurdb
LinkedIn: https://www.linkedin.com/in/damonburton/
Facebook: https://www.facebook.com/damon.burton
Website: https://www.damonburton.com/
Instagram: https://www.instagram.com/entrepreneurdamon