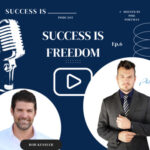 📌PODCAST EPISODE 6
Episode 6 of Success is _ podcast with guest Rob Kessler is live today. Rob Kessler is an inventor, a boat Captain, a serial entrepreneur, and co-founder of Million Dollar Collar. Rob has experience in several high-dollar industries, including Diamonds, Real Estate, and Automotive Sales, providing him the best background to transition into the fashion world.
Rob is one of the successful entrepreneurs who created his business through his previous experience. His inspiration for his million-dollar collar is from the frustrating outcome of his wedding photos after his shirt looked sloppy on the biggest day of his life. He followed his passion and got the business both he and his wife wanted "a simple solution to fix the unsightly collapse of the collar of a casually worn shirt."
Join me as I uncover Rob's secret to achieving his success as he looks at the world from various standpoints than most people do, leading to his success in everything he does and staying ahead of the competition.
📌Available now 👇👇
Spotify, google podcast, Anchor, apple podcast, and Youtube
Please don't forget to like my post and follow!
Connect with Rob Kessler:
Twitter: https://twitter.com/mdollarcollar
LinkedIn: https://www.linkedin.com/in/robkessleriii/
Instagram: https://www.instagram.com/milliondollarcollar/
Youtube: https://www.youtube.com/channel/UCAVhiyyyyJsGj3Vay1RtZ0w
Website: https://milliondollarcollar.com/