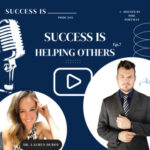 📌PODCAST EPISODE 5
Episode 5 of Success is _ podcast with guest Dr. Lauren Duroy is live today. Dr. Lauren Duroy, DNP, APRN is a Family Doctor of Nursing Practice, Nurse Practitioner, Duel Certified Life Coach, & Business Coach. She is also a first-generation entrepreneur who launched a successful business by using her rock bottom as her catalyst for change.
Dr. Lauren is the best in her field in terms of defining mental health awareness and helping a lot of people handle and overcome them. Growing up in a physically, mentally, and emotionally abusive family. Dr. Lauren overcomes her hardship and turns them into motivation to achieve her dream of becoming a Doctor of Nursing Practice.
Dr. Lauren discusses the importance of taking your previous experience positively and rekindling your love of helping others to inspire them to have the power to change their lives on a deeper, more meaningful level despite the barriers of school loan debt, restrictions, and burnout.
📌Available now 👇👇
Spotify, google podcast, Anchor, apple podcast, and Youtube
Please don't forget to like my post and follow!
Connect with Dr. Lauren Duroy:
Facebook: https://www.facebook.com/lvkollar
LinkedIn: http://www.linkedin.com/in/drlaurenDNP
Youtube: https://www.youtube.com/channel/UCdP4jfQegclsjFe8l8Yj7wg
Instagram: https://www.instagram.com/dr.lauren.dnp/
Website: https://healthymindfirst.com/