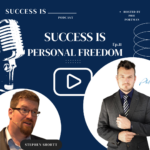 📌PODCAST EPISODE 10

Episode 11 of Success is _ podcast with guest Stephen Shortt is live today. Stephen Shortt is a personality profile. He has facilitated workshops, delivered keynotes, and taught leadership across Europe, North America, the Middle East, and Asia. His knowledge in this area is based on his childhood environment, where he grew up working in 2 family businesses. Stephen later bought both of those businesses and grew them internationally.
For many people, success is defined by external measures such as wealth, power, or fame. But for Stephen, success is about much more than that. It's about living a life aligned with his core values and purpose, and understanding and living his "why". Stephen has been able to create a life that is deeply fulfilling and meaningful. While it hasn't always been easy, the clarity and direction he has found through this process have made it well worth the effort. His projects, businesses, and programs feed into his core purpose "To help people Aspire to a better future and Empower them to get there".
As the former global chair of the Global Student Entrepreneur Awards, Stephen has seen firsthand the power of young entrepreneurs changing the world. The awards support emerging entrepreneurs in over 50 countries worldwide and help them take their businesses to the next level, which is the basis for the Disney+ / National Geographic Documentary "Own The Room".
Listen to Stephen's inspiring story and learn from his mistakes in achieving his core purpose in life.
📌Available now 👇👇
Spotify, google podcast, Anchor, apple podcast, and Youtube