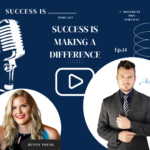 📌PODCAST EPISODE 14
Episode 14 of Success is _ podcast with guest Bunny Young is live today.  Bunny Young is a Growth Coach, Speaker, Retreat Facilitator, Counselor, Author, and a close friend of Phil Portman. She is the founder of Better Place Consulting, where she helps professionals to make the most of their business and personal life. Bunny is a proud Army Wife, mother of two beautiful and spunky daughters, has an incredible service dog, and several fur babies.
Bunny defines success as having family, enjoying time with them, and being genuine to yourself and the people around you. She describes that one of the processes in building your authentic self is assessing your life through a self-assessment tool called The Wheel of Life which helps to determine what areas you need to work on to create and attain balance in your busy life. Owning your journey, using The Wheel of Life, and being honest with yourself in those areas help you to build your character and improve how others perceive you.
Listen as Bunny shares how building yourself and giving 100% of your time, energy, and money to learning gives you the highest return on investment. Self Investment, consistency, and community are the biggest accelerators of her success.
📌Available now 👇👇
Spotify, google podcast, Anchor, apple podcast, and Youtube.
Connect with Bunny Young:
LinkedIn: https://www.linkedin.com/in/bunnysumneryoung/
Facebook: https://www.facebook.com/abetterplaceconsulting/
Instagram: https://www.instagram.com/abetterplaceconsulting/
Website: www.abetterplaceconsulting.com