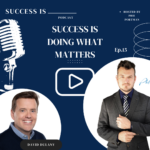 📌PODCAST EPISODE 15
Episode 15 of Success is _ podcast with guest David Dulany is live today. David Dulany is a Sales Development Specialist, and the CEO/Founder of Tenbound, a research and advisory firm focusing on sales development in the tech industry. 
David defines success as the privilege to do things that give you more freedom at your own pace, and the time to take things slowly by focusing on your niche and building skills. David spent a lot of time in life trying to find success. This helped him to realize that as long as you love what you do and have the passion for working for it, you will find success. 
In this episode, David shares the importance of sales development and how it benefits a lot of people in the tech industry. Listen as he shares his successful experience building his career in the sales development space and getting the career of his dreams by identifying the competition and finding his edge over them.
📌Available now 👇👇
Spotify, google podcast, Anchor, apple podcast, and Youtube.
Connect with David Dulany:
Twitter: https://twitter.com/DKDINSF  
LinkedIn: https://www.linkedin.com/in/davidkdulany/
Facebook: https://www.facebook.com/tenboundinc
Instagram: https://www.instagram.com/tenbound/
Website: https://www.daviddulany.com/