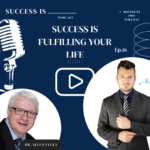 📌PODCAST EPISODE 16
Episode 16 of Success is _ podcast with guest Dr. Allen Lycka is live today. Dr. Allen Lycka was a Cosmetic Dermatologist who became a best-selling author, dynamic speaker, and transformation expert. In addition to hosting Inside Cosmetic Surgery Today, the most popular internet radio show in the world, he has authored 17 books and more than 30 research publications. Dr. Lycka won the prestigious Consumers Choice Award for Cosmetic Surgery for 16 consecutive years.
When the doctors informed Dr. Lycka that he had only six months to live, his life was forever altered. While on vacation at Disneyland, Dr. Lycka's wife noticed that his right foot had suddenly developed a foot drop and was no longer lifting. She then advised him to have his feet examined. He made a commitment to do so. It was then that Dr. Lycka was diagnosed with ALS (Lou Gehrig's disease) and given only six short months to live. After seeing numerous doctors for a second opinion and undergoing a host of tests, he later discovered that he had been misdiagnosed with ALS.
Join me as I laugh and learn from Dr. Lycka's stories about his trauma and experience as a result of this transformative event. Dr. Lycka discovers a reason to live and defines his success by living his life to the fullest. This life-changing event caused Dr. Lycka to learn a lot about life and discover the secret to living a fantastic life with his family.
📌Available now 👇👇
Spotify, google podcast, Anchor, apple podcast, and Youtube.
Connect with Dr. Allen Lycka:
Twitter: https://twitter.com/DrAllenLycka   
LinkedIn: https://www.linkedin.com/in/allenlycka/
Facebook: https://www.facebook.com/DrAllenStevenLycka/
Instagram: https://www.instagram.com/dr_allen_lycka/
Website: https://drallenlycka.com/