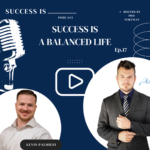 📌PODCAST EPISODE 17
Episode 17 of Success is _ podcast with guest Kevin Palmieri is live today. Kevin Palmieri is CFO, Founder & Co-Host of Next Level University, a Global Top 100 Self-Improvement Podcast with over 1,000 episodes and 600K+ listens in over 125 countries.
Even after having everything, making a lot of money, and having what people call success, Kevin struggles with sadness and depression, making him want to commit suicide every night. After being in a routine of working late nights, waking up early to go to work, and earning a lot of money, Kevin hits rock bottom. His life changed one night while he was lying in his bed in a hotel room in New Jersey, and his subconscious mind warned him that he would be trapped in that cycle forever. After quitting his job, Kevin became a broke entrepreneur trying to figure out his new industry. It was during this time that he made the decision to follow his passion and decided to pursue his interest in podcasting.
Join me as Kevin shares and defines his real meaning of success after having it all. From hitting rock bottom to figuring out a new line of business after being broke to hosting over 1,000 podcast episodes with over 600k listeners in over 125 countries.
📌Available now 👇👇
Spotify, google podcast, Anchor, apple podcast, and Youtube.
Connect with Kevin Palmieri:
LinkedIn: https://www.linkedin.com/in/kevin-palmieri-5b7736160/
Facebook: https://www.facebook.com/kevin.palmieri.90
Instagram: https://www.instagram.com/neverquitkid/ Website: https://www.nextleveluniverse.com/