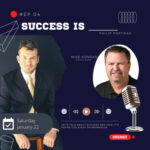 📌PODCAST EPISODE 4
Success is _ podcast with guest Mike Konrad is live today. Mike Konrad is an industry expert on removing contamination from circuit assemblies. He is also the host of the Reliability Matters podcast and an internationally known speaker on increasing reliability through contamination removal and cleanliness quantification techniques and procedures. Mike is the founder of Aqueous Technologies, a manufacturer of automated cleaning and cleanliness testing systems designed for the electronic assembly industry, and has served as its CEO/CTO since 1992.
Mike defines success in two ways he perceived it, one from his old self and one as his present self. Mike unravels the process of getting to success in business is like going through the gears of a manual transmission. You can't start at fifth gear. You'll burn the clutch out. You need to go through the first gear, and as you shift or get more experienced, you will let go of ego and arrogance as you move, and then you will know how to play the game and become wiser and savvier in the process.
Listen as Mike explains how important to acquire the skills at the right time and that if you chase money, you will not be successful.
Please don't forget to like my post and follow!
Connect with Mike Konrad:
Twitter: https://twitter.com/mikekonrad
LinkedIn: https://www.linkedin.com/in/mtkonrad/
Youtube: https://www.youtube.com/c/ReliabilityMattersPodcast
Website: https://www.aqueoustech.com/
Podcast: Reliability matters podcast available on iTunes, Spotify, and spreaker.com.